Indoor snowboarding
Our team of snowboarding instructors at the Ski Centre have years of experience working with snowboarders of all levels - whether you're looking to brush up your skills for holidays, improve your technique or simply learn the basics, you'll be able to learn & develop at the Ski Centre with the help of our fully qualified team.
Find out more & book your session
Our experts will help you develop to a high standard
Our beginner lessons cover the following:
Correct posture & balance
Straight running
Heel edge side slip
Introduction to turns
Benefit:
Learning basics to set you on the way to your first snow holiday
Our intermediate lessons cover the following:
Weight distribution exercises for turns
Progression towards turns in fall line
Introduction to Toe edge
Creating basic heel and toe edge turns
Benefit:
Refresh for holiday or advancing your skill set
Our advanced lessons cover the following:
Snowboarding at a faster pace
Linking Turns
Managing edge and pressure for performance turns
Improving timing & Rhythm
Benefit:
Taking it to the next level
Great for kids
"I must say, we had the most enjoyable day with a school group, really enjoyed it, will be back"
- St. Kevins School
Really Enjoyable
"Thanks for an enjoyable afternoon, we will hopefully be back again to ski very soon!"
Lisa K - Navan
Such Fun!
"Aodhán's 6th birthday party was great fun! Staff are very friendly and really helpful."
Ronan R - Ranelagh
Awesome!
"Super staff, very welcoming!! Already booked another two lessons! Looking forward to it"
Kathy R - Newbridge
Great lesson
"Emer was a great instructor, had a great lesson with her! Definately will be back. Thanks!"
Trudy M - Rathdrum
Calm & Focused
"Nice and calm class where I could really focus, learn & prepare for holidays."
Aaron S - Stepaside
Great Holiday Prep!
"Just finished my third lesson, great sessions and feeling confident for holidays!."
Jerry O'R - Harolds X
Great Lesson!
"It was a super positive experience. Great attention was paid to each of us. Highly recommendable."
Leon C - Tyrellstown
Fun Family Day
"Good fun day for both kids and adults. My girl can't wait to go back again! Instructors were brill."
Jackie N - Clonee
Ski Legs - Check!
"Really useful for getting ski legs, especially for my son, looking forward to our holidays!"
Soairse Ni R - Foxrock
Love It
"Enda was my trainer for ski and i love it.will continue my ski classes for sure."
Agata Ni V - Lucan
Great Refresher
"Great skill refresher to get me back up to speed for my upcoming ski trip."
Rhian J - Blackrock
Expert-led snowboarding sessions.
Our fully qualified team are here to develop your snowboarding skills and provide you with a thoroughly enjoyable experience at the Ski Centre.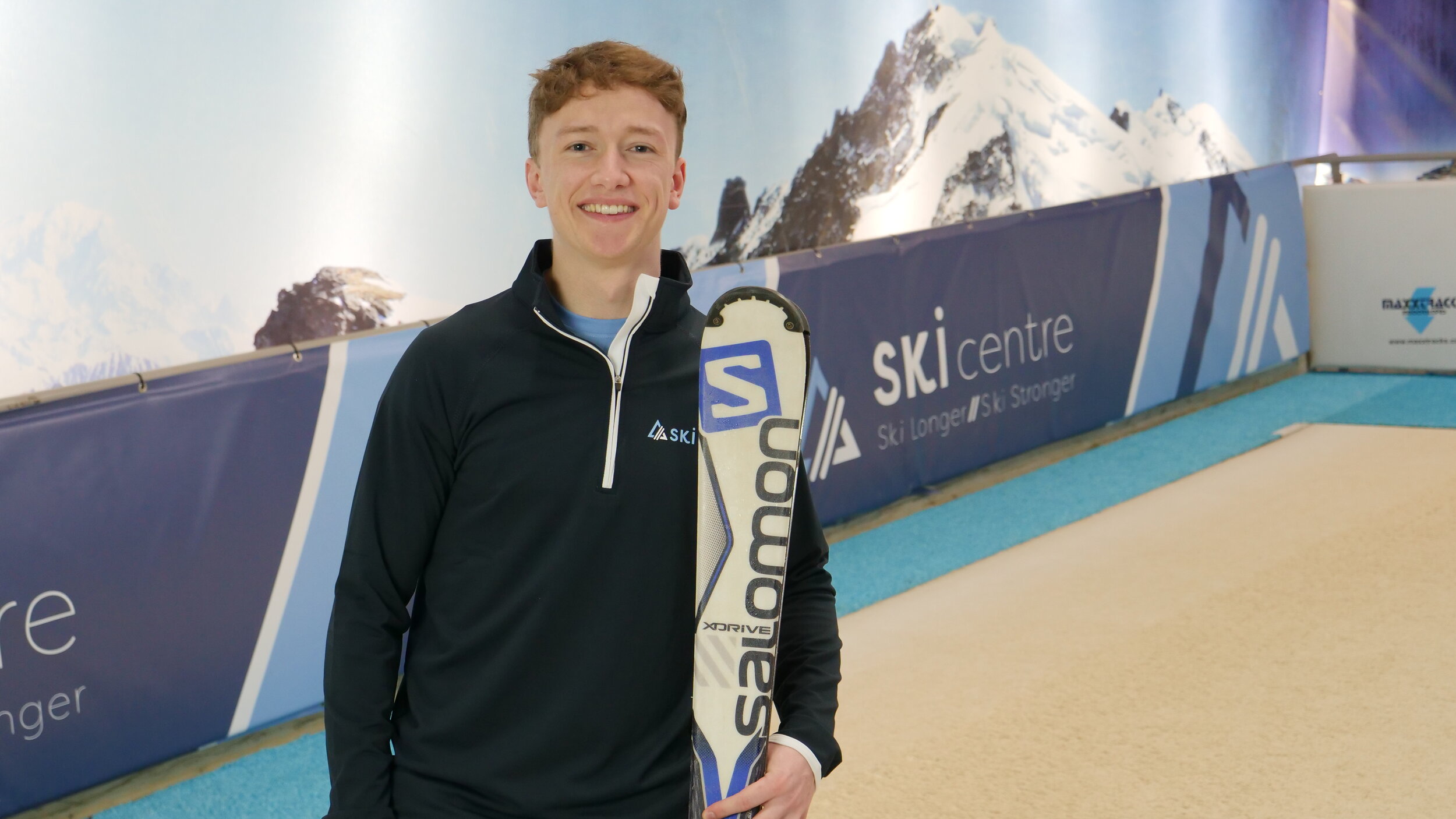 "We work closely with our students in order to help them improve and fine-tune their snowboarding technique."
- Eoin Doyle, on-site instructor
01.What equipment should
I bring on the day?
All equipment is supplied, skis, boots, snowboards etc. If you have your own ski boots bring them along, however all participants must use Ski Centre Snowboards.
02.How Does The
ski slope work?
The Ski Centre uses unique revolving slope technology that simulates real ski/snowboard runs and allows snowboarders to get in realistic length runs. A mirrored wall also provides an instant feedback (you can actually see yourself snowboarding!) all-in-all helping you to develop better posture, balance, edge precision and rotation control, in turn developing your fitness and confidence in your skiing .
03.How Does the slope
cope with different abilities?
The slopes can be sped up or slowed down, or be made steeper or gentler, to match the lesson and the learner. An instructor holds a remote control to stop the slope in an instant, if required. Every lesson is given by a qualified instructor suited to your needs to ensure you get the most from your experience.
04.What makes the Ski Centre
good for learners?
The rolling slope helps improve muscle memory, stamina and fitness. An instructor provides instant and continual feedback as overall technique and confidence improves.
05.Is it suitable for experienced
and advanced snowboarders?
Yes! The Ski Centre can focus on advanced techniques & off-piste techniques – several national teams including the Swiss A TEAM use these slopes for training. As with any new surface, the initial experience in humbling however once you get the hang of it, you benefit enormously!
06.How long does
each session last for?
Each session lasts 60 minutes and includes 30 minutes snowboarding time and 30 minutes observation or rest time – the format is 10 minutes on/10 minutes rest, repeated three times. All skiers/snowboarders must arrive 20 minutes before the lesson to sign-in and get boots and skis ready.
Check out our comprehensive FAQ guide here, or contact the SKI Centre at (01) 293 0588 – we'd be delighted to help!